Products by Brand: Bermad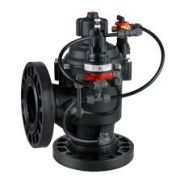 Bermad 100 Series valve
100 series high performance plastic valves respond to the latest water system designs & requirements for Medium Pressure Industrial flow-control applications, and can be supplied in Hydraulic, Electric, Pressure/Sustaining, Pressure/Reducing or a combination of these valve types.
Ultra-high flow capacity with minimal pressure loss.
Positively guided valve plug assembly provides accurate motion & smooth regulation, without causing 'water hammer'
Durable industrial grade valve design and construction, uses glass-filled (GF) Nylon material to meet rough service conditions
Excellent on a wide range of pressure & flow conditions, from drip to wide-open maximum flow. No minimum 'low-flow' limitations.
Versatile end-connections,for various system designs. (3"threaded & flanged, 4"threaded, PVC pipe adapters or Combinations)
Document download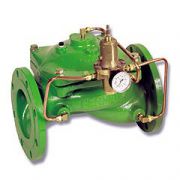 Bermad 400 Series Valves
Bermad 400 Series Hydraulic Diaphragm Control Valves represent the leading edge of control valve technology. This diaphragm-actuated family of valves blends simple, dependable construction with superior performance for a variety of water control applications in irrigation and waterworks systems. The diaphragm performs equally well under all service conditions, maintains perfect balance without distortion from uneven hydraulic forces, and is totally immune to pressure surges. The Hydraulic Control Valve is designed to open and close drip-tight in response to a hydraulic remote command/or local command. The standard valve is supplied with a 4-way ball valve that selects positions between open, close, or auto.
Document download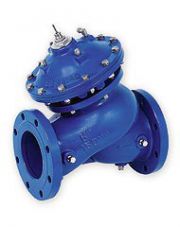 Bermad 700 Series Valves
The Model 700/705 Basic Hydraulic Valve is a diaphragm- actuated, hydraulically-operated, globe valve in either the oblique (Y) or angle pattern design. The Model 700 Basic Valve operation is independent of valve differential pressure. The double-chambered diaphragm actuator is always subjected to full differential pressure to develop maximum power and to respond immediately. The upper control-chamber is pressurized to close and vented to open the valve. The lower control-chamber usually is vented to the atmosphere, but can be pressurized to power the valve open. The Model 705 Basic Valve uses differential pressure to power the diaphragm actuator open or closed. The lower control- chamber is exposed to the downstream pressure, that serves to cushion the closing of the valve, through a fixed orifice connected to the downstream side of the valve. The pressure in the upper control-chamber varies, usually resulting from the combined action of a regulating pilot and a fixed orifice. This varying pressure modulates the valve to open or close. The Model 700/705 Basic Hydraulic Valve is available in a wide range of materials, sizes, pressure ratings, and end connections. Single or double-chambered versions are used as the main valve in all 700 Series applications.BERMAD 700 Series control valves provide a variety of individual and combined functions, such as:
Pressure reducing
Pressure relief & sustaining
Flow control
Level control
Pump control
Surge control
Solenoid control
Electronic control
Burst control
Document download